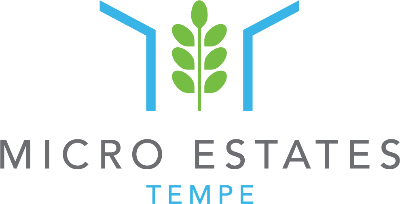 Last Home is Now Under Contract.
 Tempe Micro Estates offers affordable homeownership in a beautiful little package.
Thirteen modern and efficient one–bedroom homes create a welcoming community right in the heart of Tempe.
(Haga clic aquí para información en español)
Tempe Micro Estates is an innovative, architect-designed community developed as part of Newtown's Community Land Trust (CLT) with thirteen resident-owned houses on community-owned land. Each stylish home is compact and private, while a shared Common Room and landscaped courtyard gives extra space and amenities, including personal gardens where homeowners can grow their own food or flowers.
---
Each house features:
600 square feet of living space
One loft bedroom in two-story homes or first-floor bedroom in accessible home
One full-size bathroom
Open-concept kitchen, dining, and living area
Full-size appliances
Private patio and side yard
High-quality, low-maintenance building materials
Water and energy-efficient design
Low heating and cooling needs
Low-waste, low-energy construction
ENERGY STAR® Home Performance certification
Common Room features:
900 square feet of shared space
Indoor and outdoor gathering areas
Community kitchen for hosting events
Secure mailboxes
Laundry facilities with dedicated space for line-drying
Tool library
Book and game library
Community features:
Affordable purchase price and low HOA and land-lease fees
Secure community for safety
On-site parking for cars
Pedestrian and bike-friendly location
Close to light rail, Valley Metro bus system, Orbit, and Tempe Streetcar
Edible and native plant gardens
Rainwater harvesting and grey-water reclamation
Environmentally sustainable design
---
Affordable Homeownership in a Beautiful Package
Tempe Micro Estates are priced at or below market rate. Exact prices based on income, subsidy availability, credit-worthiness, and other factors. Learn more here.
We're under construction, so apply now to reserve your home! Learn more here.
---
Architectural Plans (subject to change)
Lofted Home Floorplan

Accessible Home Floorplan

Common Room Floorplan

Artist Rendering of Interior of Lofted Home

Artist Rendering of Central Courtyard

Artist Rendering of Private Side Yard

Artist Rendering of Interior of Lofted Home

Artist Rendering of Central Courtyard

Artist Rendering of Upstairs Loft
---
Learn more!
Press Coverage
Disclaimers / Legal
Please note: Renderings and other artwork are for illustrative purposes only. Floor plans, specifications, dimensions, designs, finishes, and all other project elements may change. Dimensions and square footage are estimated. Newtown reserves the right to make changes to any of the foregoing at any time, without notice. Thank you for understanding.
---
Sign up here for updates about Tempe Micro Estates!