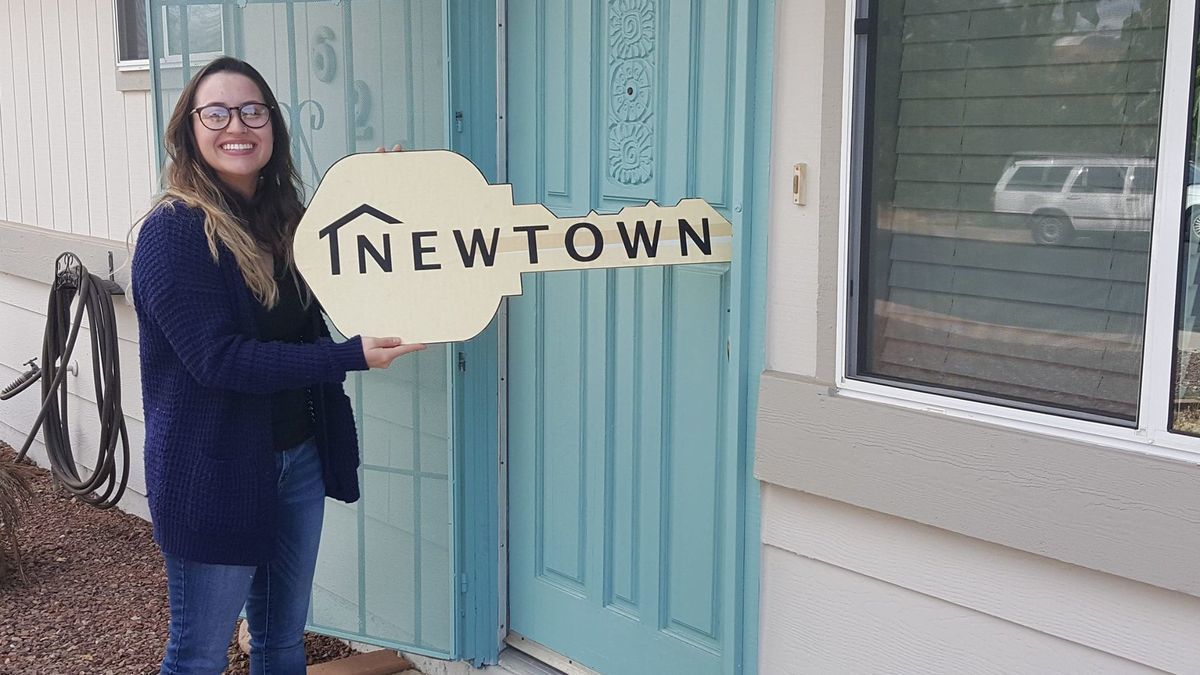 WORDS FROM OUR CLIENTS
Sajresa M. - CLT Homeowner

Everything about this experience was wonderful. I was able to achieve homeownership of a perfectly-sized rehabbed house. Everyone at Newtown kept in touch and were very patient with all my questions. The organization, the realtor, and the lender were easy to work with and took a lot of the stress out of the home-buying experience. I was introduced to Newtown from a family member who purchased her home through them and she had nothing but positive things to say. That's my situation too --- nothing but a positive experience that I am more than happy to share. God Bless This Organization!

Sarah S. - Homeownership Client

I can not say enough great things about Newtown. I worked with Jessica and in a few months I went from start to finish and now am a PROUD HOMEOWNER. I am just amazed at how easy they made the whole process. The lender and real estate agent that were recommended to me also said that Newtown was easy to work with, which helped the process move along quickly. I want to thank your team for helping me fulfill a dream for me and my family.

Nicole M. - Homeownership Client

Thanks to the help from Newtown, I was able to purchase a new home for me and my family. I never even dreamed I would be able to! Thank you Karina and Jessica for opening doors I didn't even know were possible.

Juana C. - Homeownership Client

I just want to thank Karina and Jessica at Newtown CDC. You two are an awesome team. Thank you for your patience and kindness. The help you both provided me was professional and from the heart. This is the place to go to for anyone who wants to achieve buying a home.

Iris Z. - Homeownership Client

I am so thankful for Newtown. I have achieved the dream of owning a home and with their help with downpayment. Jessica and Karina made the process easy. They were there when I had questions and needed help with the process. They were so sweet and made me feel so comfortable with the process. I truly appreciate them and hope they know how they touched people's lives for the good.

Maria S. – CLT Homeowner

I just wanted to say thank you to all of you for helping me realize my dream. Although I am still not moved in, my mother and I spent all weekend painting and the only room finished is the Kitchen. My big move will be Thursday since I am back to work today. Angela, you will appreciate this. My son, Aleks, said this morning, "Mom, may I ask you a question…if the house is ready, if you have the keys, and the garage door opener, why are we still here?" (referring to my sister's house). So I told him, "Because your bed is still here."

He just smiled. Aleks and Dylan are just as excited as me to move into our home. Please tell everyone involved in this project thank you from me and my boys. I am really looking forward to see my kids grow in a beautiful home. Also, I am hoping that once all is done and the last box taken out to the trash, I can invite you over. Thank you a million.

A. Welborn – CLT Homeowner

I so, so appreciate Newtown CDC. We had the hardest time finding a house we could afford when it came time to purchase a home. We knew our family was growing but could only afford small 2-bedroom townhomes, all in not the best condition. Then we found out about Newtown. They helped us every step of the way. I loved not having to compete with the general market for a con-tract on a house. We ended up in our dream home, on a great street. We've owned this home for 3 years and are still so happy here. As repair issues have come up (not many because the house was remodeled so well), the staff has been so helpful in getting problems taken care of and referring professionals for us. Our family would not be in a home like this if it wasn't for Newtown.

The Hansens – Homeownership Clients

The Hansens recently became the 300th family to buy a home through the Phoenix Neighborhood Stabilization Program (NSP). They looked for six months and kept getting outbid by investors, but finally their persistence paid off. Linda Osuna, one of Newtown's Housing Counselors, helped them through the process.
Congratulations!

Claudia V. - Homeownership Client

Amazing people in the office! Ever since I stepped foot in the office, I have felt like I gained friends. They are the most amazing, dedicated and generous people I have ever met. I am so thank-ful I found this program that has helped my family and I purchase our 1st home. I couldn't have done it without the staff. Highly recommended 1000%.

Tashauna L. - Homeownership Client

They are so helpful and just awesome! My husband and I were assisted by Jose Velazquez. He made us so comfortable and really broke down our credit and debts in a way that was simple and understandable. We left feeling like homeownership is more than possible in the near future as long as we follow his recommendations and put the needed effort in. Newton is a great resource for credit, down payment assistance, and homeownership!!

T.D. – CLT Homeowner

Without the Newtown Community Land Trust program and the IDA program we wouldn't have been able to buy a house. Thanks for changing our lives.

Loi D. - CLT Homeowner

Amazing staff!! The organization is doing such a great job in helping people getting affordable housing. We got so much help from Newtown when buying our house. They also helped us with repair issues such as finding resources or referring professionals. They always go beyond and above to take care of their clients.

Iqbal G. - CLT Homeowner

There are no words to describe how much I appreciate the opportunity Newtown CDC provided my family and I. All the staff were extremely helpful and provided a great experience. They guided me through the whole process and helped me accomplish my dream goal of owning a house. Newtown made people's dreams and goals become a reality. I highly recommend any family to use their program.

R.S. – CLT Homeowner

I wanted to let you know that everything is going very well at our new home! My son and I are so happy to be moved in and settled.

Rochelle B. - CLT Homeowner

The staff at Newtown were very helpful during the process of buying a home through them. As a first-time home-buyer, I had many questions, and they were always patient with me, and most of all, believed in me and kept me enthusiastic through the process. My daughter and I feel so fortunate that we own this home! And we continue to be so grateful for the opportunity that Newtown gave us. Thank You, Newtown!!

Watch this short video about Juliana's journey from homelessness to homeownership.
Click Julianna's name to watch the video

Janet W. - Homeownership Client

The staff Karina and Jessica are a true pleasure to work with. They are so helpful and provide me with excellent tools and information. I love that they show their pleasure working with me to accomplish my goal of homeownership. I highly recommend them. the best counselors ever!!! Great Job Ladies!!!!

Carolina A. - Homeownership Client

I would like to highly recommend Newtown CDC, their team is honest and helpful. They guide you through the whole home-buying process and explain everything in detail. Thanks to this program I was able to provide my girls with a home of our own, in a nice community close to their school. Without this program, I would not be able to afford a home in that area. Thank you again Newtown CDC Team for your help. :) We are enjoying our beautiful home very much.