Tempe Micro Estates Application Process and Acceptance Date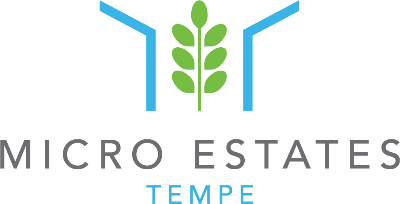 Applications for purchasing a home at Tempe Micro Estates
are available now.
Thank you for your interest in Tempe Micro Estates. Thirteen small homes create a courtyard community focused on creating a comfortable atmosphere with less impact on the environment, all in the heart of Tempe. Residents work together to maintain their community, knowing that they control the community they build.  The Tempe Micro Estates are conveniently located near light rail, bus service, bike paths, and the future Tempe Streetcar, as well as to employment, shopping, healthcare, and entertainment.
Applications began being accepted on a first come, first serve basis on Saturday, September 7, 2019. Applications are accepted by Newtown during normal business hours in person or by email and are date and time stamped in the order they are received.
---
Eligibility Requirements for Households to Purchase a Home at Tempe Micro Estates
Meet income eligibility requirements — earning either at or below 80% the federally specified Area Median Income (AMI), or up to 120% AMI (view income limits here)
Be able to be pre-approved by an approved CLT lender and otherwise be credit-worthy for a mortgage sufficient to cover the purchase price
Be able to contribute at least $3,000 of your own funds towards closing costs (typically from $6,000 to $8,000)
Complete and submit the Newtown Intake Application.
Attend the one-hour mandatory Community Land Trust Informational Meeting (held monthly, check out our events page for dates and registration)
Meet one-on-one with a Newtown counselor
Complete an approved Home Buyer Education Class*
Be a First-Time Home Buyer (can not have owned a home for at least three years)*
*Only required for those earning less than 80% AMI.
Required Forms
Please complete, print, sign, and bring these two documents, along with your $40 non-refundable application fee (cash, check, or money order) on or after applications are opened.
Tempe Micro Estates Application Form (fillable pdf)
Acknowledgement and Preference Selection Form (pdf)
Link to Pay Application Fee Online
---
Procedure and Timetable:
Each household application will be required to pay a non-refundable application screening fee of $40 when submitting the full application for processing.
Please be patient, the process of document verification may take several weeks to complete and additional information may be requested. After the initial income verification process has been completed, you will be contacted regarding next steps.
If it appears you earn enough to qualify for a mortgage, but below 80% AMI, Newtown will contact you to schedule an appointment with a Housing Counselor to analyze your current situation and help you create an individualized homebuyer action plan, review your eligibility for Down Payment Assistance programs, provide advice and coaching while you work with lenders, title companies and others involved in your home purchase transaction, and ensure that you meet all programmatic rules and regulations.
If it appears you earn between 80% and 120% AMI, Newtown will contact you to schedule an appointment with a Housing Counselor to ensure that you meet all programmatic rules and regulations.
Once your full eligibility has been determined and you are next on the waiting list, Newtown will require all applicants to provide a holding deposit of $400 to secure your reservation. The household will have five business days from being notified to pay the $400 reservation fee and complete a letter of intent. It is also at this point that you may reserve which home you will purchase, as available.
Newtown will retain a waiting list for the homes at Tempe Micro Estates. If a purchaser releases their reservation, the next person on the waiting list will be contacted to secure their reservation.
Once final pricing and construction details are available, you will then be able to review all documentation, pricing, and choose to enter into a purchase contract for your new home. You will need to provide an Earnest Deposit of $1,400. The $400 Holding Deposit will be applied towards your earnest deposit, so you will only need to provide $1,000. These funds will be used towards your closing costs or down payment.
Please Note: Newtown will not pay a buyer's broker fee.